SIMATIC Training

We design and conduct Tailor-made Training Modules to meet specific customer
Requirements and the fields of Siemens Automation Systems. Some of the ready
Modules available are :

• SIMATIC–S7 – Basic and Advanced.
• SIMATIC-S5 – Basic & Advanced.
• WinCC SCADA – Basic Course.
• Industrial Networking Systems.
• Maintenance and Troubleshooting.
• AC & DC Drives.

We have had the privilege of conducting SIMATIC training courses on behalf of Siemens in various countries, including:

• Kuwait
• UAE
• Libya
• Iran


Testing & Development

We have in-house facilities for Engineering, Software Development and System Testing. The same is backed up by all latest Hardware, Software & Test equipments. Some the testing facilities available are:

• SIMATIC S7-200/300 PLCs.
• SIMATIC-S5 Systems.
• Profibus/Ethernet Networking.
• HMI/SCADA Systems.
• Communication Systems.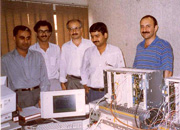 Training in Iran